Best Nepal Canyoning Trip – Jalbire Canyon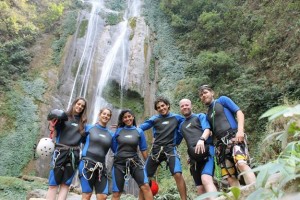 Duration: 1 Days (approx.)
Location: Jalbire
Product code: BNC-JC
Jalbire Canyon Natural Waterpark in Chitwan, Nepal
You get an extreme fun and amazing scenery at one of Nepal's most beautiful canyons. Experience majestic waterfalls, rock slides and giant jumping rocks and land in pristine pools of turquoise water. Afterwards, experience Nepali culture as we take you for lunch at our favorite daal baht (traditional Nepali food) place!
About Your Nepal Canyoning Adventure
This canyoning day trip is one of the best adventures in Nepal. You will go to a natural water park at Jalbire Canyon. This canyon features rock slides, jumping pools, and many waterfalls. Our guests have described this canyoning trip as the "best attraction in Nepal." Indeed, it is one of the most popular. Want an even BETTER adventure? Add rafting to this trip and overnight camping for a nice weekend break, or 2 day trip before going on to Pokhara or Chitwan. This is the perfect break on this long road trip across Nepal.
Price Includes: All equipment, transportation r/t from Kathmandu, lunch, and guides.
Departs: 6:30 am from Kathmandu Guesthouse gate – meet your guide there. (custom departure from Chitwan or Pokhara available)
How to Prepare for Your Canyoning Trip:
Clothing:
wear flexible fitting clothing like rash guard shirt and leggings with shorts over them.
clothes may get damaged by rocks
long hair should be pulled back in ponytail close to head – this is for safety
do not wear necklaces, rings or bracelets or jewelry – this is for safety
wear closed-toe sport shoes or closed-toe water sport shoes – this is for safety
bring change of dry clothes and shoes
Please note, guests must follow all safety precautions. Guides have right to exclude anyone from tour who does not follow safety rules. Canyoning is an adrenaline-rush, extreme sport that is really fun, but all must follow the safety rules.
What you need:
sunblock
sunglasses
change of clothes
closed-toe shoes (sports shoes, canyoning shoes, or Keens)
money for snacks, extras
Perfect as a day trip en route to Chitwan National Park or Pokhara.
Rock Slide and Jump
Jumping rock – Jalbire Canyoning Chitwan Nepal
The jump-rock and the rock slide are a must-do and the best of Nepal's natural amusement parks! Jalbire Canyon is near the Chitwan Jungle and is a lush tropical paradise with massive waterfalls and amazing features. You will feel like you are at a natural water park as you splash and play and feel the adrenaline of jumping off the 12 meter rock or plunging down the natural rock slide shoot! Come on, you know you HAVE to try this!